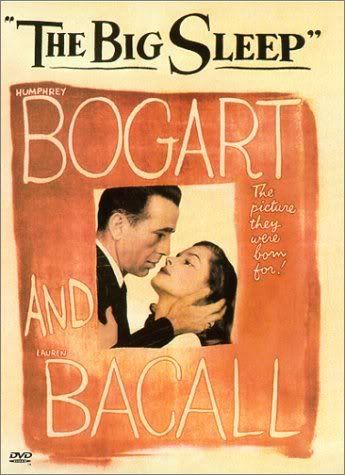 30. The Big Sleep (Howard Hawks, 1946) #118 in IMDB top 250
Noir, filthy dirty noir. The Big Sleep is a stone cold classic noir film and it's utterly disgraceful that I haven't seen it up until now. All the clichés about American noir and detective movies came from this and a few other key films (Notably The Maltese Falcon). The Big Sleep takes place nominally in Los Angeles but this isn't like any city in the real world. The city has a veneer of class shrouding a layer of sleaze and corruption that can seep out and infect the inhabitants at any point, and it frequently does. Humphrey Bogart, as Philip Marlowe, wades through this murky cityscape dodging and rounding the criminal underclass whilst charming every woman in sight. Lauren Bacall is the femme fatale whose involvement in the case expands at each twist and turn in the story Whenever Bogart and Bacall are onscreen at the same time the chemistry is palpable, they married shortly after the film wrapped. If you haven't seen it – give it a watch and marvel at how much one film has integrated itself into our cultural consciousness and if you can fathom what actually happens in the film then let me know. Remarkably the author, Raymond Chandler, famously claimed to not know himself.
Note: The Big Sleep is listed in the Neon book 1000 Essential Movies on Video under 'LA Movies'.