January 1st
1 day. 6 films. Hit the ground running.
Just past midnight on the first morning of the New Year I decided to get stuck in.
(I'll hyperlink each film to its IMDB page in case you'd like some more information)
Assault on Precinct 13 (2005, Jean-François Richet)
A remake to begin with, a remake of a classic Carpenter film no less! Assault on Precinct 13 has some pretty cool, if not big, boots to fill. And I thought it filled them pretty damn well. The film strips away most unnecessary exposition and ploughs straight into the action. There is an admirable lack of sentimentality about the characters and about the way in which they are picked off. The casting is key in this film and whilst Gabriel Byrne is under-used (and subsequently looks uninterested) it's nice to see familiar faces like Brian Dennehy and Drea De Matteo (Adriana from The Sopranos) get substantial roles. The action rolls along at a fair lick and despite a small lull about an hour in the tension is kept up. Special mention goes to Laurence Fishburne who seems to grow in stature through the course of the film.
Half Nelson (2006, Ryan Fleck)
A change of pace, from bullets and bravado to drugs and more than a dab of despair. Actually despair might be too strong a word for Half Nelson, in which Ryan Gosling gives an exceptional performance as a disenfranchised teacher who forms an awkward friendship with the student (Shareeka Epps) who finds him smoking crack in the toilet. It might be better described as a film about disenfranchisement, there isn't any cheap redemptive message in Half Nelson and the characters aren't limited to conventional arcs. The film is permeated by the softness of the descent of the characters, the ease at which they fall away from civilised society drifting from the mooring influence of their families. It's a film with real heart which avoids the pitfall of a cheap resolution.
Man on Fire (1987, Elie Chouraqui)
The original adaptation of the A.J. Quinnell novel (latterly remade with Tony Scott directing and Denzel Washington in the lead) is a European production with a predominantly American cast and a style that gets lost somewhere in-between. Scott Glenn is Creasy the washed up CIA agent turned reluctant private hire bodyguard for the 12 year old daughter of a rich ex-pat family. The agent and the kid slowly become friends before she is kidnapped and Creasy cuts a bloody swathe through the Italian underworld to find her. Despite Glenn being as inscrutable and gruff as you'd like this is slow paced and clumsily scripted making for a less than enchanting first 40 minutes as the leads warm to each other. Makes you wish that the studio had trusted Tony Scott with making this version.
Enduring Love (2004, Roger Michell)
The opening scene of Enduring Love is phenomenal. Utterly brilliant in conception (from Ian McEwan's novel), direction and finally in the edit (Nicolas Gaster deserves great credit). So good is it that it threatens to eclipse the rest of the film but it is a credit to the performances of Daniel Craig, Rhys Ifans and the always brilliant Samantha Morton that Enduring Love emerges from the lengthy shadow of the opening. Sumptuously photographed and tightly paced – this is an exceptionally good British film.
The epitome of the derogatively termed 'torture porn' (or gore-nography if you prefer) category of recent horror films. Hostel plays pretty dumb on several occasions, referring to a non-existent 'war' in Slovakia that has rid the town of young men leaving a void that could only be satisfactorily filled by drunk/stoned Americans. The young American backpackers swallow the story whole. I'm willing to give Eli Roth the benefit of the doubt where other reviewers haven't. I think Hostel, as well as being a typically gratuitous and blackly comic, is a sly little treatise on American international relationships. Roth suggests that Americans blithely think of Europe in only two distinct ways – the Western Europe of cultural significance and good times (Paris & Amsterdam) and the Eastern Europe of sad war-torn dilapidation, ripe for exploitation.
Grisly and upsetting, Hostel is much smarter than you might think.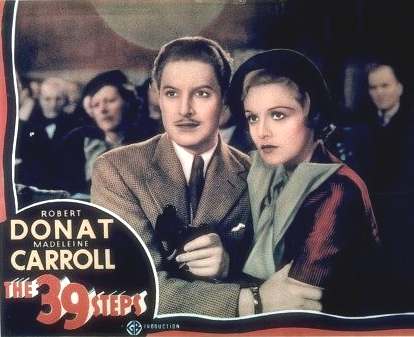 The 39 Steps (1935, Alfred Hitchcock)
It's a bit difficult to 'review' a film this old. So much has already been written and said – can I add anything new? Unlikely. I will say this, it's aged really well. The story is gripping and fast-paced, the two leads have a genuine chemistry and the whole film is shot through with a black wit that still works in our, more cynical times. It's a classic of British cinema and I should've watched it long ago.
Note. The 39 Steps is listed in the Neon '1000 essential videos to watch' under the category 'Chase Movies'.
Double note…
It might not always be this detailed so enjoy it whilst it is. The writing should improve though.